Near Pittsburgh, PA, Wheeling, WV, and Canton, Ohio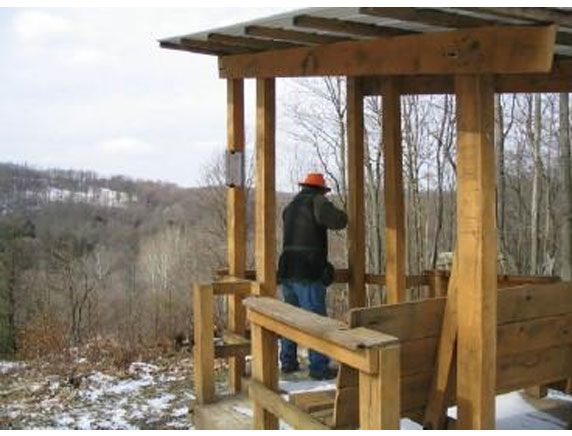 Island Creek Sporting Clays Offers A High-Quality Shooting Experience
Are you looking for a sporting clay range near Pittsburgh, PA, Wheeling, WV, and Canton, Ohio? Visit Island Creek Sporting Clays just 40 minutes west of Pittsburgh. We offer sporting clays, gun safety courses, wobble trap, skeet, and more. Our public range is open every Saturday and Sunday (except major holidays) and is available Monday through Friday by appointment only for groups of three or more.
Bob Hickle, an Air Force veteran and life-long resident of Jefferson County, opened Island Creek Sporting Clays in 2004. He noted a lack of shooting venues in the area. He has been joined over the years by his wife, Earla, and daughters Michelle and Jennifer who help with operations. All six of Bob's grandchildren have worked at the range during high school, and three continue to work there now. Bob and Michelle are both Chief Range Officers and the family welcomes groups of all sizes. They especially enjoy introducing youth and scout troops to clay shooting. Call us at (740) 282-5830 to learn more, plan an outing, or schedule your shoot.
Sign up for the Jollie Hickle Memorial Shoot on Sunday, May 15th.
Cost is $100 and includes 100-bird round, t-shirt, and lunch. 
Bring your own ammunition or purchase separately
Sporting Clays for the Ohio, PA, and WV, Tri-State Area
Sporting clays is one of many competitive shooting games in the area. Get your practice in at Island Creek Sporting Clays near Pittsburgh, PA. We offer a large course, with 24 stations full of challenging targets, to allow for many different target presentations. This is as close as you can get to real-life bird hunting, without the hassle of plucking. Give us a call today to learn more about our sporting clays or to reserve a time.
Proudly Associated with...
Hunter Safety, Gun Safety, and Concealed Carry Courses in Ohio
A crucial part of hunting or gun use is knowing proper safety measures. Island Creek Sporting Clays offers hunter safety, gun safety, and concealed carry courses for residents of Ohio. Allow our professionals to prepare you for the next hunting season with a comprehensive training course. Instruction is $75.00 per hour.
Owner Bob Hickle is a NSCA Level 1 Certified instructor, and is an NRA-certified shotgun, rifle, and pistol instructor. He is also recognized as an Ohio State Hunter Safety course instructor. With over 40 years of shooting experience, you can trust Bob for professional, safe instruction.
Contact Island Creek to Schedule Your Next Outing
If you are looking to join Island Creek Sporting Clays or to reserve time on the sporting clay course, please contact us. Our staff will be happy to accommodate you. If you are unsure of where we are located, please see our directions page. View our gallery to see our spacious sporting clay range. Located in Toronto, Ohio, we proudly serve Canton, Ohio; Pittsburgh, PA; Wheeling, WV; and the surrounding areas.
Island Creek Sporting Clays is COVID-Conscious
Outdoor activities are a safer way to spend time with friends during the COVID-19 pandemic. Masks must be worn indoors, and common areas are frequently cleaned and sanitized. Please maintain social distance from those not in your party.